Geek Software of the Week: 1-4a Rename!
Rename files at once. One of the most powerful renamers. And it's freeware. It is called 1-4a Rename! And, DEWD! It supports Star Trek Stardates! How cool is THAT?!?
Rename mp3 files. 1-4a-rename. Freeware file renamer for Windows 95/98/2000/XP
A file renamer which renames many files at once.
Has Undo
You can preview changes instantly, thus no danger
Now with STAR TREK stardate/startime
Tons of functions (see features).
Perfect for .jpg, .mp3, digital camera files…
Works in networks and with subdirectories (recursiverly)
Fast! Even with many files
It's free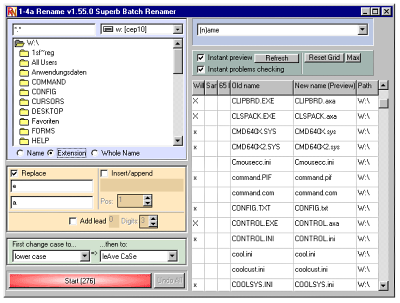 You won't believe how useful this utility is until you use it! WOW!
Optimized for large amounts of mp3 files or jpg files or any other file type.
It is fast. It is easy.
You can do so many things with it, it's even hard to begin to describe how cool it actually is!