Geek Software of the Week: TimeLeft!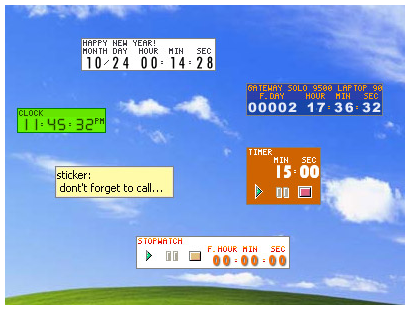 TimeLeft is a very handy little utility. I found it while looking for a very specific solution to a silly problem. I have a little "apartment" style refrigerator in my office at work… and it doesn't exactly cool that well… I call it my "Al Gore" refrigerator… it uses so little energy, it doesn't even cool! Anyway, I like my drinks REALLY cold! So, I wanted to put my Diet Dr. Pepper in the freezer of the large refrigerator in our break room at work… but you don't want to leave it is there TOO long! So, I needed a timer that would pop up on my computer and fuss at me to get my drink! Weird problem, huh? Anyway, this little freeware utility does the trick!
"TimeLeft is a versatile desktop utility, which may be used as a countdown clock, reminder, clock, alarm clock, tray clock, stopwatch, timer, sticker, auction watch, work days/hours countdown clock and time synchronization utility. TimeLeft uses Winamp skins to show digits and text. The main feature of TimeLeft is a powerful customizable reminder, which can show a message, play music (any formats including mp3) or open a link, document, execute an application, turn off your monitor or shutdown your PC."
Reminder
TimeLeft reminder can alarm you at a specific moment of time or run periodically. It can also remind you before a specified event or keep on reminding after it. Reminder can show a message, play music or open a link/document, execute an application or shutdown your PC. Numerous other options are also available.
Trayclock
Replace Windows clock with skinnable TimeLeft clock. You will not go back to the standard Windows clock.
Clock
Clock displays time in different time zones. You can also set a time display format: 12 hours, military, show date, etc. Also you can replace standard Windows clock with TimeLeft clock.
Countdown
Countdown is a small window that lives on your desktop and shows you every second left till some event.
Stopwatch
Stopwatch measures interval of time. By default stopwatch measures time interval in hours, minutes and seconds.
Timer
Timer measures a time interval and signals its end. TimeLeft will remind you not to forget about meal cooking or watered backyard while you are working on your computer
Sticker
Another TimeLeft feature is sticker – you can place an important note on your desktop. No need to stick around Post-it papers – you can organize all your notes with TimeLeft stickers.
Time Synchronization
TimeLeft is also capable of using atomic clock servers to adjust time on your computer. This feature allows you to use it as a time synchronization utility.
Auction Watch
Buying or selling anything online? You can easily watch and manage your online auctions (eBay and any other) using auction watch module.
Countdown For Web
You can place your countdown to a web-page using Export to Web module. Let all your visitors know how much time left till your special occasion!
Workdays countdown
TimeLeft countdown can track the amount of working days, hours, minutes and seconds till (or passed after) the specified event.
Floating Windows
Every instance of a countdown, clock, stopwatch, timer or sticker is a separate floating window, it can be placed anywhere on your desktop. You can make every floating window look just how you want it to look: change layout, color, font or select a Winamp skin; set semitransparent, choose size and more.
Zoom
Every floating window may have its own size. For example, if countdown text is to small for you, you can simply enlarge a countdown floating window using your mouse.