Geek Software of the Week: HoverIP!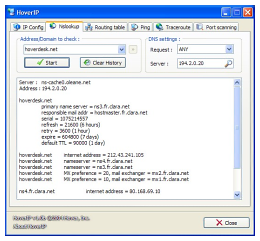 This week's Geek Software of the Week, is a neat, free network tool for Windows XP and Vista!
Lot's more freeware is at this site, but, let's look at HoverIP:
"With HoverIP you can display your IP configuration (on all network cards), perform different tasks like NSLOOKUP, PING, TRACEROUTE, SCAN PORTS or network, and manage your ROUTES in a very convenient way! Important Note: HoverIP will not work with Windows 95 and has not been tested on all platforms."
You can use it to change your network info on one simple screen… you can also check to see what ports are open from and to your system. Very cool stuff!