Geek Software of the Week: HD Tune!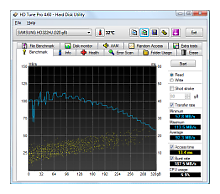 Looking for a great, free, hard disk utility? Well, look no further than HD Tune! Check out what it can do!
This is a great tool for benchmarking, testing, and just generally getting familiar with your hard drive. Can you trust your data to a hard drive that hasn't been adequately put through it's paces? Well, now you can! And, it is FREE… I love FREE! There is a "Pro" version, and if you need it's advanced features, go for it!
"HD Tune is a Hard Disk utility which has the following functions:
* Benchmark: measures the performance
* Info: shows detailed information
* Health: checks the health status by using SMART
* Error Scan: scans the surface for errors
* Temperature display
HD Tune may also work with other storage devices such as memory cards, USB sticks, iPods, etc."