Steve Jobs Nervous About Android?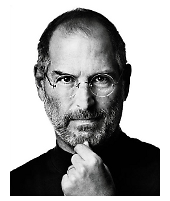 I think so. Apple just announced record profits. You would think Jobs would be happy, but I think he sees Android and Google as a real, serious threat.
What is Steve Jobs so afraid of?
"There's a saying that the more you have, the more you fear losing it.Apple's CEO made a surprise appearance during yesterday's fiscal 2010 fourth quarter earnings call. Jobs said he couldn't resist participating, given Apple's record $20.34 billion revenue. But he leveled most of his comments at competitors, and in quite defensive posture. Now why is that? Apple's iPhone blew past Wall Street estimates by as many as 3 million units. The iPad outsold Macs and, according to Gartner and IDC analysts, sucked sales away from Windows netbooks and low-cost notebooks. Apple controls the largest and most successful applications store on the planet. The company sits on a cash horde of more than $51 billion. Then there are the quarterly results, which topped consensus estimates by nearly $2 billion."
Yet, Jobs fussed about Android, and tried to diminish it.
"Jobs moved on to Google and recent statements by Eric Schmidt, its CEO and former Apple board member, about there being 200,000 Android activations per day and 90,000 apps in the Android Marketplace. "Apple has activated about 275,000 iOS devices per day on average for the past 30 days" with the number topping 300,000 some days, Jobs asserted. It's an apple and oranges comparison. Apple isn't just activating iPhones but iPads and iPod touches, too. Nearly all Androids are phones; for now. It's a me-too claim that demonstrates Jobs' fear Android may do to iPhone what Windows did to the Mac during the 1980s and 1990s."
Interesting. I think Jobs is sweating. And Android rocks. Just sayin'!