Motorola Xoom Tablet Goes On Sale Thursday at Verizon!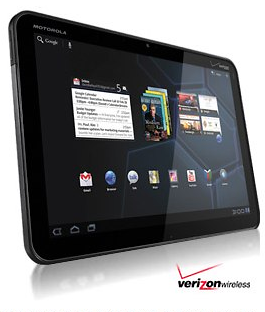 I like the looks of this one… BUT, it looks a mite expensive, but if you want to buy me one, I won't complain!
Xoom Android tablet set for sale Thursday at Verizon
"Verizon Wireless will start selling Motorola's Xoom tablet on Feb. 24 for $599.99 with a two-year service agreement, the carrier confirmed today.
Without a contract, the 10.1-in. Xoom, the first tablet to run the new "Honeycomb" version of Android, will cost $799.99… Verizon said that wireless 3G service for the Xoom starts at $20 a month for 1GB of data. Further details on 3G pricing were not immediately available. Upgrades to 4G LTE service will be possible in the second quarter at no extra charge, Verizon added in a statement. The Xoom also comes Wi-Fi-ready."