One Dollar Samsung S5 on Cyber-Monday!
Whoa! One Dollar for the Samsung S5!
Amazon Cyber Monday Deal brings Samsung Galaxy S5 for $1 on contract with Verizon, AT&T, Sprint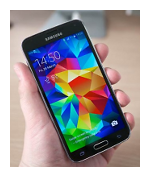 The West Side Story – By: Clinton Hesler – "Cyber Monday deals are here, and deals can be found almost at every retail location. Sprint, AT&T, Verizon are offering the Samsung Galaxy S5 for $1.oo on Amazon.com. Not every day a deal like this shows up, so interested parties should jump onboard before stock runs out.
The Samsung Galaxy S5 is the 2014 flagship device from the South Korean giant, Samsung. The handset launched earlier in the year to a lot of raving reviews, though some critics Samsung added more gimmicks to give consumers the impression that the Galaxy S5 offers considerably more than the Galaxy S4.
The model Sprint, AT&T, and Verizon are offering, is the 16GB variety, a smartphone that usually goes for $599 when not available on a 2 or 3 year contract. If the 16GB internal memory is not enough, the device comes with an SD card slot for expandable memory.
When it comes down to features, the most standout on the Galaxy S5 is its 5.1-inch full 1080p Super Amoled HD display and dual frontal speakers. It's a beautiful handset that should be owned by anyone with a love for Android devices.
Apart from the excellent display, the Galaxy S5 comes packed with a decent enough 16 megapixel rear camera, and a 2 megapixel, front-facing camera for video calls.
One of the best aspects about this handset is its 2800 mAh removable battery. Samsung never fails in this regard, as the company knows that removable batteries are important to the Galaxy loving fans.
The Samsung Galaxy S5, while not the best Android based smartphone in 2014, should be viewed as one of the most worthwhile. It is a solid smartphone for those who are in love with big screen devices and handsets with super-fast quad core processors. The deal right now is probably the lowest the handset will ever reach in its lifetime, so folks who have always wanted one should jump at this opportunity before the offer disappears for good."