If You Have Wrist Tattoos Expect Issues with the Apple Watch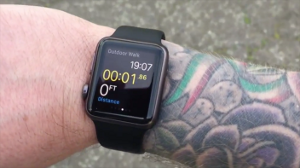 So, how many people wrist tattoos?
Apple confirms tattoo issue with Apple Watch in updated support document
9to5Mac – "Apple has confirmed reports of problems using the Apple Watch on tattooed wrists. The company has quietly updated a support page on the heart-rate functionality.
Permanent or temporary changes to your skin, such as some tattoos, can also impact heart rate sensor performance. The ink, pattern, and saturation of some tattoos can block light from the sensor, making it difficult to get reliable readings.
Apple Watch owners on Reddit and Twitter have been posting conflicting reports and video, some showing that the heart-rate functionality works fine with their tattoos, others showing either no reading at all or erratic readings…
The issue seems to primarily affect those with solid areas of deeper inks, like black and red.
For those concerned that the watch may not work at all if it is unable to detect skin contact, I can confirm that all functionality works even when worn over clothing if you switch off wrist-detection in the companion app on the iPhone. The wording here is misleading, as it continues to switch on when you raise your wrist.
If you're unable to get a heart-rate reading and want to use your Apple Watch for workouts, the support document suggests using a separate chest-strap heart-rate monitor offering Bluetooth connectivity."