Samsung Now Has a 16 TB SSD Drive!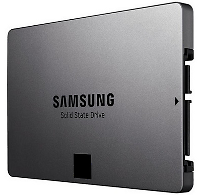 Oh. Wow. 16 TB in an SSD! Want. Need. Drool.
Samsung takes "world's largest storage drive" crown with 16TB SSD
PC World – By: Jared Newman – "Samsung has figured out how to supersize solid state storage with a whopping 16TB SSD.
At that size, Samsung has taken the lead for world's largest storage drive, even compared to hard disk storage. Last year, Seagate and Western Digital released 8TB and 10TB HDDs, respectively, while Fixstars announced a 6TB SSD just a few months ago. Samsung's new drive fits within a 2.5-inch enclosure, so in theory it could find its way into laptops and desktop PCs.
As usual with insanely large storage drives, however, Samsung is targeting the server market first. At this year's Flash Memory Summit, the company showed off 48 of the new drives in a server with storage totaling 768TB, Golem.de reports. The drives are fast as well, rated at two million input/output operations per second. As Ars Technica notes, conventional PC drives tend to handle 10,000 to 90,000 of those operations per second.
We might have seen this coming, as Samsung was touting a major upgrade to its 3D NAND flash chips just a few days ago. With the new 48-layer, 3-bit V-NAND technology, Samsung doubled the density of its current flash chips to 256Gb. The company said it could 'easily double the capacity of Samsung's existing SSD line-ups, and provide an ideal solution for multi-terabyte SSDs.'
That's not to say Samsung will stay king of the storage hill for too long. Earlier this month, SanDisk announced its own 256Gb, 3-bit-per-cell, 48-layer 3D NAND flash chips in partnership with Toshiba. While they haven't announced any products yet, SanDisk said last year that it was hoping to launch a 16TB SSD in 2016.
The impact on you at home: Given that Samsung hasn't even announced a release date for its 16TB drive, it'll be a while before you can even think about putting this kind of solid state storage in your PC. But even today, we're seeing some of this technology trickle down to the consumer market. Right now, you can pick up a 1TB SSD with Samsung's 3D V-NAND tech for $360, or a 2TB drive for $750. The underlying advancements will continue to force prices downward, so it's not hard to imagine solid state covering most storage needs before too long."