The Google Nexus 6P Phone Sounds Awesome!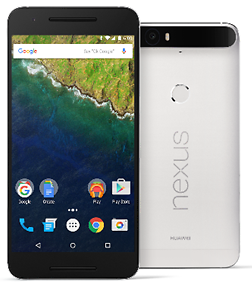 I may have found my new phone!
Nexus 6P Presentation Leak Includes More Images, Confirms Metal Body, Gorilla Glass 4, And 3450mAh Battery
Android Police – By: Michael Crider – "The leaks continue to flow out of Mountain View. The latest information on Huawei's Nexus 6P, the larger and presumably more expensive of the two Nexus devices Google is expected to announce next week, comes from a public image gallery posted to Imgur. It's a series of slides that appear to be designed for retail employees to use as an information and promotional tool. The slides include a set of hardware specifications and new photos.
By the way, that metal body means that the phone probably doesn't feature wireless charging, but I'd be amazed if Qualcomm's quick charging wasn't included.
Slides dedicated to the camera and fingerprint sensor don't reveal much that we didn't already know – the marketing text says the camera 'allows in more light,' which probably just means a low F-stop value. The first slide in the deck includes a mention of Gorilla Glass 4, the latest design of enhanced tempered glass from Corning.
Other slides include more information on the benefits of Android 6.0 Marshmallow and Now on Tap, which most of you should be familiar with, and the last slide confirms that the Nexus 6P will be available in 32, 64, and 128GB capacities. Based on the Aluminium, Graphite, Frost, and Gold color choices, it looks like the body is made of aluminum (which is hardly surprising). And apparently that Gold color will only be available in Japan, at least during the initial launch of the phone. Google has a habit of releasing new colors late into a Nexus phone life cycle, so take that for what it's worth.
One last tidbit: one of the slides includes a slightly angled photo of the rear of the Nexus 6P, which shows that the camera 'bump' so commonly derided in previous leaks may be less noticeable than we had hitherto thought. It's still there, certainly, but it's not quite as pronounced as it looked in other renders and leaked photos.
There's still a few things we haven't been able to confirm: the price, still unmentioned, and the display panel type, though IPS-LCD seems most likely. Google will announce the Huawei Nexus 6P, along with the LG Nexus 5X (and probably a few other things), in San Francisco on September 29th."