Cord Cutting in 2018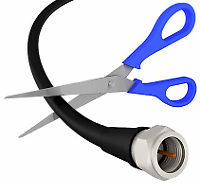 The outlook for Cord Cutters this year…
Cord cutters, here's what to expect in 2018
USA Today – By: Mike Snider – "The streaming video binge-fest shows no sign of slowing down.
Expect plenty of developments in 2018 as more viewers turn to the Internet for their TV entertainment as more subscription services attempt to woo them.
Two trends power the ongoing TV transformation: the growing number of U.S. homes with high-speed broadband Internet service and the slow decline in homes with traditional pay-TV service.
About 82% of all U.S. homes get broadband now, up from 76% in 2012, according to the Leichtman Research Group. And broadband homes (94.5 million) now eclipse the number of homes with traditional pay TV (about 92.2 million), the research firm says.
Meanwhile, pay-TV providers overall continue to lose subscribers. About 405,000 signed off in the third quarter alone. However, the growth in broadband-delivered live TV services such as Sling TV and DirecTV Now is helping offset those losses. More than 2.5 million now subscribe to them, Leichtman Research says.
What else can streaming video devotees expect in 2018?
Rise of the skinny bundles. Those seeking to cut the cord or increase their streaming options could have even more broadband-delivered live TV choices in the months ahead.
The virtual-TV competition truly heated up in 2017. In March, Google joined the fray with its $35 monthly YouTube TV service, complete with more than 40 live TV channels. Two months later, Hulu began offering more than 50 live TV channels ($39.99 monthly) in addition to its subscription on-demand programming from major networks and its own originals (starting at $7.99 monthly with limited ads).
Also new on the scene: Philo, a $16 monthly entertainment-focused service launched last month with more than three dozen channels including A&E, AMC, BET, Comedy Central, Discovery Channel, HGTV and OWN — notably absent are sports and news.
Sports-oriented fuboTV ($39.99 after two months at $19.99) has grown from a soccer-centric streaming service two years ago to now offer more than 65 channels including Fox and NBC broadcast, news and sports channels.
A new livestreaming TV service called Philo launches today, and it's sure to get the attention of people sick of paying high cable bills for channels they don't watch.
Already up and running were Sling TV (starting at $20), launched by Dish Network in Feb. 2015, and Sony's PlayStation Vue ($39.99 and up), which debuted a month later. AT&T, which acquired DirecTV in May 2014, began offering its DirecTV Now service ($35 and up) in November 2016.
A possible new player is Amazon, which could attempt to deliver its own live TV service as a way to accelerate allegiance to its Amazon Prime service ($99 annual fee) and eventually monetize advertising, says Joel Espelien, an analyst with Plano, Texas-based research firm The Diffusion Group.
Amazon already makes available to Prime subscribers thousands of TV episodes and movies including original content and NFL Thursday Night Football. A bigger play by Amazon would be 'tremendously disruptive' and likely cannibalize current and future subscribers to other services, Espelien says in a recent research note.
The extent to which current traditional pay-TV subscribers move to virtual Net TV services in 2018 will likely dictate whether broadband TV solidifies 'a position as either the low budget-end of the pay-TV market or (as) a force of radical change in the U.S. pay-TV industry,' said Brett Sappington, senior research director for Parks Associates, a research firm in Addison, Texas.
Competition for content. Look for streaming services to try to lock down rights for coveted TV series and movies that will keep subscribers on board, with Disney planning its own subscription video offering sometime in 2019.
It's already a crowded marketplace, with more than 200 streaming services available to subscribers, according to Parks Associates. Netflix is the leader — Amazon, Hulu and MLB.tv. hold the next three spots — and to maintain its dominance it plans to ramp up content spending to as much as $8 billion in 2018.
That will likely be needed as Disney CEO Bob Iger has said in the buildup to launching its own service that the entertainment powerhouse plans to be selfish in licensing its current content and well as fare it gained from the $52.4 billion bid for much of 21st Century Fox including its TV and movie studios.
Netflix has already signed several creative deals, including one with Scandal and Grey's Anatomy creator Shonda Rhimes. Meanwhile, Amazon Studios' landed The Walking Dead creator Robert Kirkman and Skybound Entertainment, the entertainment company he founded with producer David Alpert, to a two-year deal developing exclusive TV series.
And Hulu has become a force to be reckoned with, with its The Handmaid's Talewinning five Emmys in September.
Watch for more players to enter the content creation arena, just as Apple has done and is expected to invest about $1 billion in 2018. DirecTV Now or Sling are among those that could begin offering 'some type of original content of their own,' Espelien said.
Partnerships and, perhaps, attrition. With so many services available and more on the way — including ESPN Plus in early 2018 — some smaller or niche offerings may need to team up to survive.
A recent PricewaterhouseCoopers survey found cord cutters have three services on average, but they only watch two of them on a regular basis. Cord-trimming super-users (who also have slimmed-down traditional pay TV service) foot the bill for more, four services on average, but they still only watch two on a regular basis.
That means some binge-watchers may eventually tire of paying the monthly bill for services they rarely use. So there could be 'a significant ramp up in partnerships,' Sappington said, to help struggling services 'get to the next level.'
Changes coming for Hulu. If successful in its bid for Fox, Disney will add the 30% stake in Hulu owned by Fox to its current 30% stake. That will leave Comcast (NBCUniversal) with another 30% share and Time Warner holding 10%. (That share could eventually go to AT&T if the telecom giant wins its own $85.4 billion bid for the entertainment company.)
Some possibilities for Hulu include Disney attempting to buy out Comcast and taking command of the service or Comcast buying out Disney. Comcast has been a silent partner in Hulu, a condition under its 2011 acquisition of NBCUniversal. That condition ends in August 2018. (Comcast acquired the remaining 49% of NBCUniversal from GE in 2013.)
'It will be interesting to see how the politics plays out,' Sappington said, 'and how that will affect the service and its content.'"