YouTube Bans Some Gun Videos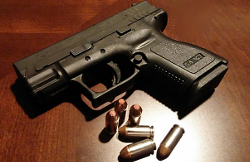 Looking for reviews and info on guns, YouTube may not be the place to go much longer…
YouTube to Ban Videos Promoting Gun Sales
New York Times – By: Niray Chokshi – "YouTube said this week that it would tighten restrictions on some firearm videos, its latest policy announcement since coming under scrutiny following last month's mass shooting at a high school in Parkland, Fla.
The video-streaming service, which is owned by Google, said it would ban videos that promote either the construction or sale of firearms and their accessories. The new policy, developed with expert advice over the past four months, will go into effect next month, it said.
'While we've long prohibited the sale of firearms, we recently notified creators of updates we will be making around content promoting the sale or manufacture of firearms and their accessories, specifically, items like ammunition, gatling triggers, and drop-in auto sears,' YouTube said in a statement.
YouTube, which described the move as part of 'regular changes' to policy, notified users in a Monday forum post. The company had previously banned videos showing how to make firearms discharge faster, a technique used by the gunman who killed 58 people in Las Vegas last fall.
The announcement comes days before planned student-led protests against gun violence on Saturday. It was met with frustration from gun rights advocates.
'Much like Facebook, YouTube now acts as a virtual public square,' the National Shooting Sports Foundation, a private group representing gun makers, said in a statement. 'The exercise of what amounts to censorship, then, can legitimately be viewed as the stifling of commercial free speech, which has constitutional protection. Such actions also impinge on the Second Amendment.'
The policy shift comes as YouTube and other technology platforms face increased scrutiny after the Parkland shooting, in which 17 people were killed at Marjory Stoneman Douglas High School.
Days after that massacre, a video promoting a baseless conspiracy about a shooting survivor became the top-trending video on YouTube, prompting a crackdown on such videos. YouTube's chief executive also said that the platform planned to fight misinformation by working in partnership with Wikipedia, the nonprofit user-run online encyclopedia. But Wikipedia said it knew nothing about that plan.
Other businesses have also made changes amid growing pressure following the Parkland attack.
Dick's Sporting Goods, Walmart and Kroger all raised the age limit for firearm purchases to 21. The retail chains REI and Mountain Equipment Co-op suspended orders of some popular products because the company that owns those brands, Vista Outdoor, also manufactures assault-style rifles.
In 2016, Facebook announced a ban on private gun sales on its flagship website as well as on Instagram, the photo-sharing social network it owns. Anti-gun activists have complained that sellers still found ways around Facebook's ban."