Geek Software of the Week: Uniform Server!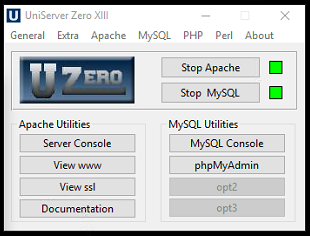 Uniform Server Web Site
It is not often that I want to write a Geek Software of the Week review right up front, at the beginning of the show. But as I prepared for this week's show, I discovered that this was the biggest thing that I've been looking at all week long!
The Uniform Server is a WAMP server that is very small, and very solid! The key features for Uniform Server are: comprehensive security… all applications are set to the highest security setting, assuming a live production server, it is "mobile"… meaning it can run right off of a USB stick, there's no installation, or reliance on a Windows registry; updates are rolled out with the latest release of each application and component of Uniform Server. Settings can easily be changed to manage the server and logs are available preset both for access and error logs. And, there's a great help and support community via a forum on their website.
Previously to this I had been using an Open Source project called WAMPserver, and had found it adequate, however, it was a bit hard to use, and could be a little picky. I also found that as they updated the editions of the software that made up the server, certain incompatibility issues crept in on some of my PHP applications.
I can't say yet as to whether Uniform Server will solve these issues, as I've not yet used it over a long period of time, as I did with WAMPserver. However, I have high expectations based on my use of Uniform Server so far.
I'm really impressed with an application that allows me to run Apache, MySQL and PHP on a Windows platform as easily as this does! I'm looking forward to a long and productive use of Uniform Server in my production environment!
If you have a need to run an application suite like this under Windows, I can highly recommend Uniform Server!