Microsoft Kills Off Edge Warning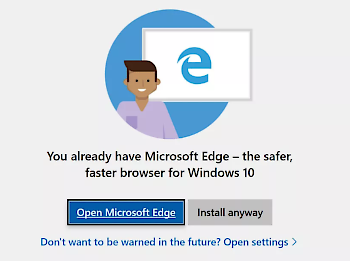 These warnings are not only annoying, they are disingenuous! I hope Microsoft will keep them out of the final release!
Microsoft Windows U-turn removes warning about installing Chrome, Firefox
c|net – By: Stephen Shankland – "Microsoft has apparently reversed course on a Windows 10 test feature that sought to warn people from installing Chrome, Firefox and other browsers that challenged Microsoft's own Edge.
A new 'fast-ring' test version of Windows, Insider Preview Build 17760, no longer interrupts the installation of rival browsers, a CNET test shows.
Earlier this week, an earlier test version of Windows would warn people who tried to install the Chrome, Firefox, Opera or Vivaldi web browsers, 'You already have Microsoft Edge — the safer, faster browser for Windows 10.' The dialog box presented two options: 'Open Microsoft Edge' — the default — and 'Install anyway.'
The feature raised some hackles and brought back memories of Microsoft's strong-arm tactics promoting its old Internet Explorer browser in the first browser wars two decades ago. But Microsoft isn't alone in such tactics: Google promotes its Chrome browser as faster and safer to people who visit its own websites with other browsers.
Microsoft didn't immediately respond to a request for comment about the change of direction.
The company is struggling to reclaim even a shadow of the dominance it once held with its Internet Explorer browser. For years, Google's Chrome has steadily eaten away at IE's share of usage, according to analytics firm StatCounter, and Microsoft's Edge hasn't even outpaced IE despite its more modern design.
Years ago, IE dominance got Microsoft in trouble, with the US Justice Department and the European Commission dragging the company through antitrust proceedings. The browser and operating system markets look very different now, though, with Microsoft Windows absent on mobile phones and with Chrome dominant on personal computers.
Edge accounts for 2 percent of usage today compared with 3 percent for IE and 60 percent for Chrome, but its usage share has actually dropped a fraction of a percentage point compared with a year ago, according to StatCounter.
Taking It to Extremes: Mix insane situations — erupting volcanoes, nuclear meltdowns, 30-foot waves — with everyday tech. Here's what happens.
Fight the Power: Take a look at who's transforming the way we think about energy."