Pinebook 64 Open Source Notebook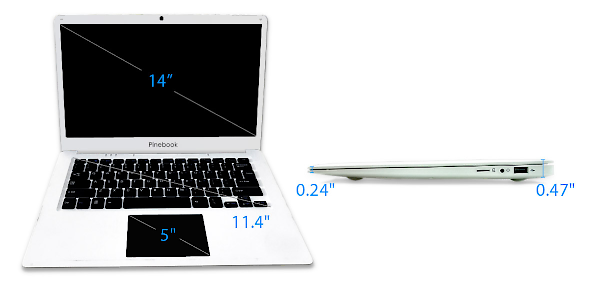 This is an Open Source, super cheap notebook computer! Are you ready? $99.00! Yep! $99.00 Bucks!
PINEBOOK: Light and Thin 64-bit ARM based Open Source Notebook
"PINEBOOK is an 11.6″ or 14″ notebook powered by the same Quad-Core ARM Cortex A53 64-Bit Processor used in our popular PINE A64 Single Board Computer. It is lightweight and comes with a full size keyboard and large multi-touch touchpad for students and makers.
As a new open source platform, Pinebook development is an ongoing process and represents a great opportunity to get involved with computing on a different level, to customise and personalise the portable computer experience, to understand what is going on beneath the surface. Your input can help shape and define what a Pinebook can be."
CPU: 1.2GHz 64-Bit Quad-Core ARM Cortex A53
RAM: 2 GB LPDDR3 RAM Memory
Flash: 16 GB eMMC 5.0 (upgradable up to 64GB)
Wireless: WiFi 802.11bgn + Bluetooth 4.0
USB 2.0 Port: 2
MicroSD Card Slot: 1
Digital Video Port: 1
Headphone Jack: 1
Microphone: Built-in
Full Size Keyboard
Large Multi-Touch Touchpad
Power: Input: 100~240V, Output: 5V3A
Battery: Lithium Polymer Battery (10000mAH)
Display: 11.6″ IPS or 14″ TN LCD (1366 x 768)
Front Camera: 0.3 Megapixels
Dimension: 11.6″ : 299mm x 200mm x 12mm (WxDxH)
14″ : 329mm x 220mm x 12mm (WxDxH)
Weight: 11.6″ : 1.04 kg (2.30 lbs)
14″ : 1.26 kg (2.78 lbs)
Warranty: 30 days