Google Has a New Chromecast for 2020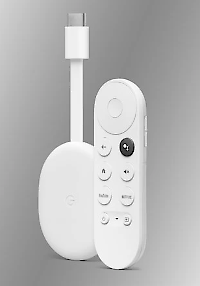 The new Google Chromecast for 2020 has some great new features:
It Debuts Google TV
Supports Android TV apps
4K HDR 60fps, Dolby Vision, Dolby Atmos
Google Assistant built-in
I am hoping that when you plug it in to your TV's USB port for power, it doesn't go into unreachable mode like the old one! Here's hoping! The remote has an on/off button, but that seems to turn your SmartTV on and off via HDMI (if your TV supports that.) I am hoping there will be a way to "wake it up" better than my current version.
There is no support for Google's On-Line Gaming through the web app, called "Stadia," but support is supposed to be be added in the future, say about the 2021 timeframe.
It sells from about $49.99 at Best Buy, Walmart, etc. and be available in three colors: "snow," "sunrise," and "sky." Google says that it is manufactured from 49% recycled plastics, for all you tree huggers out there!