Geek Software of the Week: USB Oblivion!
"This utility designed to erase all traces of (broken) connected USB devices – flash-drives, disks and CD-ROMs from computer registry of Windows XP, Windows 2003, Windows Vista, Windows 7, Windows 8, Windows 10 (32/64-bit versions). The utility has a test mode of operation, i.e. without actually removing data from the registry, and, just in case, creates a .reg-file to undo any changes. There is also a fully automatic mode."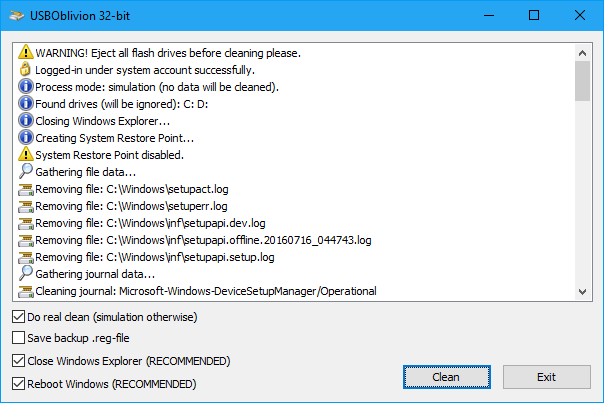 Warnings
Eject all USB drives before clean
Required an administrative privileges
Required an immediate Windows restart after clean
No you can not clean Windows installed on USB drive
FAQ
Q: Why doesn't Windows (after cleaning) detect my USB drive?
A: There may be Cached data about the USB drive somehow (for example you ignored a Windows restart or just no luck) was written back to the registry, so the drive is now erroneously partially registered. You must run the utility again to clean up the mess and immediately restart Window. Repeat twice.
Q: Why is my USB Hewlett-Packard printer not working after cleaning?
A: Some HP printers comes with "HP Smart Install" technology – when a USB CD-ROM with drivers to the printer appears in the system on printer connection. To avoid this you must:
Delete the printer from the system before cleaning
Switch off "HP Smart Install" on both the computer and the printer using the proprietary HP utility SIUtility.exe (or SIUtility64.exe) (usually in the UTILS folder of CD with printer drivers)
After that printer will be re-installed as a regular USB printer and utility will not affect it anymore
More info about "HP Smart Install" here: http://www.hp.com/hpinfo/newsroom/press_kits/2010/plugandprint/pdf/Smart_Install_FAQ.pdf
Q: How to restore a saved .reg-file?
A1: You can also restore from a System Restore Point: https://support.microsoft.com/en-us/help/12415/windows-10-recovery-options
A2: You must import saved .reg-file using System account, the administrative privileges are not sufficient:
Download PsExec utility here: https://docs.microsoft.com/en-us/sysinternals/downloads/psexec
Run cmd.exe as Administrator and type on its console window:
psexec.exe -i -s regedit.exe
In opened Registry Editor import .reg-file using menu File ? Import…
Restart Windows