Blackmagic Design Event Launches New 4K Studio Cameras!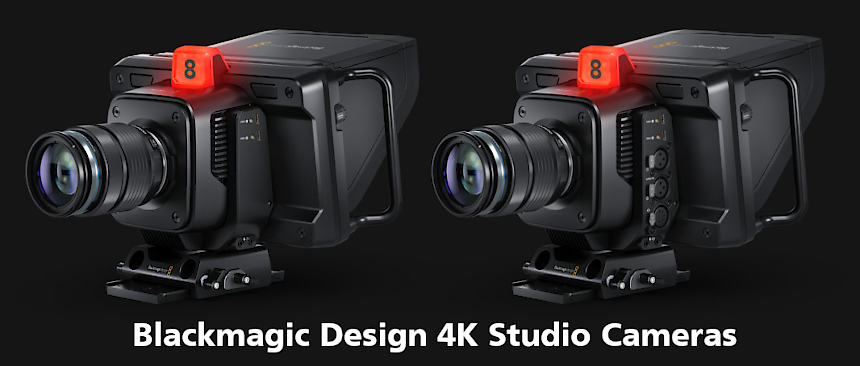 Blackmagic Design 4K Studio Cameras
Today, I watched the Blackmagic Studio event live on YouTube. It was awesome! There were a lot of great equipment revelations, but my attention was on the new studio cameras! One is designed specifically for what I like to think of as "church video," as I recommend equipment to a lot of churches. If you already use a Blackmagic Design ATEM Mini, or Mini Pro, these cameras are perfect! Specifically this one:
Blackmagic Studio Camera 4K Plus
"Designed as the perfect studio camera for ATEM Mini, this model has a 4K sensor up to 25,600 ISO, MFT lens mount, HDMI out, 7″ LCD with sunshade, built-in color correction and recording to USB disks."
Then, if you want to go the full, professional, SDI cable route, and get all the "bells and whistles", there is this one:
Blackmagic Studio Camera 4K Pro
"Designed for professional SDI or HDMI switchers, you get all the features of the Plus model, as well as 12G-SDI, professional XLR audio, brighter HDR LCD, 5 pin talkback and 10G Ethernet IP."
Designed for Live Production
"While Blackmagic Studio Camera is designed for live production, it's not limited to use with a live switcher! That's because it records Blackmagic RAW to USB disks, so it can be used in any situation where you use a tripod! The large 7″ viewfinder makes it perfect for work such as chat shows, television production, broadcast news, sports, education, conference presentations and even weddings! The large bright display with side handles, touch screen and physical controls makes it easy to track shots while being comfortable to use for long periods of time. Because it's so lightweight, it's perfect when you're constantly changing locations and doing different kinds of work."
Revolutionary Studio Camera Design
"Large broadcasters use expensive studio cameras that are extremely large, so they're not very portable. The distinctive Blackmagic Studio Camera has all the benefits of a large studio camera because it's a combination of camera and viewfinder all in a single compact design. It features a lightweight carbon fiber reinforced polycarbonate body with innovative technology in a miniaturized design. The camera is designed for live production so it's easy to track and frame shots with its large 7″ viewfinder. The touchscreen has menus for camera settings, and there's knobs for brightness, contrast and focus peaking. Plus a tripod mount with mounting plate is included for fast setup!"
Exceptional Low Light Performance
"In advanced cameras, ISO is a measurement of the image sensor's sensitivity to light. This means the higher the ISO the more gain can be added so it's possible to shoot in natural light, or even at night! The Blackmagic Studio Camera features gain from -12dB (100 ISO) up to +36dB (25,600 ISO) so it's optimized to reduce grain and noise in images, while maintaining the full dynamic range of the sensor. The primary native ISO is 400, which is ideal for use under studio lighting. Then the secondary high base ISO of 3200 is perfect when shooting in dimly lit environments. The gain can be set from the camera, or remotely from a switcher using the SDI or Ethernet remote camera control."
Get Cinematic Images in Live Production!
"The amazing 4K sensor combined with Blackmagic generation 5 color science gives you the same imaging technology used in digital film cameras. That means you can now use cinematic images for live production! Plus, when combined with the built in DaVinci Resolve primary color corrector you get much better images than simple broadcast cameras. The color corrector can even be controlled from the switcher. With 13 stops of dynamic range, the camera has darker blacks and brighter whites, perfect for color correction. The sensor features a resolution of 4096 x 2160 which is great for both HD and Ultra HD work. Plus, all models support from 23.98 fps up to 60 fps."
Affordable Photographic Lenses!
"With the popular MFT lens mount, Blackmagic Studio Cameras are compatible with a wide range of affordable photographic lenses. Photographic lenses are incredible quality because they're designed for use in high resolution photography. Plus, the active lens mount lets you adjust the lens remotely! To eliminate the need to reach around to adjust the lens zoom and focus, the optional focus and zoom demands let you adjust the lens from the tripod handles just like a large studio camera! This means you avoid camera shake when adjusting the lens, so you can track shots and operate the camera without taking your hands off the tripod! It gives you the same feel as an expensive B4 broadcast lens!"
Frame Shots with Large 7″ Viewfinder
"The large 7″ high resolution screen will totally transform how you work with the camera because it's big enough to make framing shots much easier. The Pro model features a HDR display with extremely high brightness, perfect outdoors in sunlight! On screen overlays show status and record parameters, histogram, focus peaking indicators, levels, frame guides and more. You can even apply 3D LUTs for monitoring shots with the desired color and look. The touchscreen also has menus and you can load and customize presets for different jobs. The included sun shade can be folded to protect the screen for transport plus it's compatible with sun shades from the Blackmagic Studio Viewfinder!"
Physical and Touchscreen Controls
"Blackmagic Studio Cameras feature physical buttons and knobs as well as controls on the touchscreen. Knobs on the right side of the camera allow adjusting of the brightness, contrast and focus peaking. The focus peaking knob is incredibly useful as it lets you fine tune the detail highlight so you can get perfect focus as you zoom. The 3 function buttons on the left can have functions assigned to them, such as zebra, false color, focus peaking, LUTs and more! Plus you can change the function assigned to each button in the menus. The touchscreen also includes a heads up display with the most important shooting information, as well as menus for all camera settings, LUTs and custom presets."
Built-in Tally for On Air Status
"Blackmagic Studio Cameras feature a very large tally light that illuminates red for on air, green for preview and orange for ISO recording. The tally light also includes clip on transparent camera numbers, so it's easy for talent to see camera numbers from up to 20 feet away! The Blackmagic Studio cameras support the SDI tally standard used on all ATEM live production switchers and the HDMI tally used on ATEM Mini switchers. This means that a director can cut between cameras and the tally information will be sent back to the cameras via the SDI program return feed, lighting up the tally light on the camera whenever it's on air. SDI tally eliminates complex wiring so job setup is faster."
Communicate with the Director via Talkback
"Unlike consumer cameras, the Blackmagic Studio Camera 4K Pro model has SDI connections that include talkback so the switcher operator can communicate with cameras during live events. That means the director can talk to the camera operators to guide shot selection, eliminating the problem where all cameras could have the same shot, at the same time! The talkback connector is built into the side of the camera and supports standard 5 pin XLR broadcast headsets. Talkback uses audio channels 15 and 16 in the SDI connection between the camera and the switcher, and in the program return from the switcher to the camera. This means any embedded SDI audio device can work with talkback!"
Powerful Broadcast Connections
"Blackmagic Studio cameras have lots of connections for connecting to both consumer and broadcast equipment. All models feature HDMI with tally, camera control and record trigger, so are perfect for ATEM Mini switchers! You also get headphone and mic connections, and 2 USB?C expansion ports. The advanced Blackmagic Studio Camera 4K Pro model is designed for broadcast workflows so has 12G?SDI, 10GBASE?T Ethernet, talkback and balanced XLR audio inputs. The 10G Ethernet allows all video, tally, talkback and camera power via a single connection, so setup is much faster! That's just like a SMPTE fiber workflow, but using standard Category 6A copper Ethernet cable so it's much lower cost."
The "Plus" is priced at $1295, while the "Pro" is priced at $1795.