Geek Software of the Week: CrossLoop!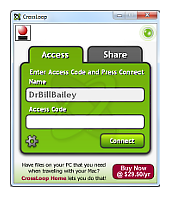 This week's Geek Software of the Week may be JUST what some of you have been looking for… if you want to help out someone elsewhere on the Internet with computer support! Imagine a secure connection where you can "drive" someone else's PC even through their firewall! (With their consent, of course!) For supporting someone "far off" this is very cool!
"CrossLoop is a FREE secure screen sharing utility designed for people of all technical skill levels. CrossLoop extends the boundaries of VNC's traditional screen sharing by enabling non-technical users to get connected from anywhere on the Internet in seconds without changing any firewall or router settings. It only takes a few minutes to setup and no signup is required. Security is built into all aspects of CrossLoop. Session data is encrypted at the end-points before being sent using a 128-bit encryption algorithm using a randomly generated 12-digit access code. Explicit permission is required before any screen images are sent to a remote computer. CrossLoop is a secure tool to remotely assist any PC on the planet."
This is very nice, secure… and very cool as well! Check it out!