First Day of Summer Heat – And An Answer!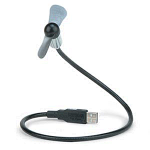 So, today's the longest day of the year… the first day of summer… and it is HOT! So, in honor of that, and because I wish I had one right now, here's the USB fan for your laptop! Boy! Don't I wish I had one now! Dewd!
"Stuffy meetings, crowded airplanes and even taxis in Texas won't wilt you anymore. The FlyFan plugs into a USB port to provide a steady stream of cool air — without draining your laptop battery.
Kensington FlyFan
* Convert a USB port on your laptop into a source of cool air.
* No batteries required for use; uses less than five minutes per hour of notebook battery charge.
* Compact and feather-light, the FlyFan goes anywhere and fits easily inside your notebook case
* No switches to operate
* Virtually indestructible
* Soft nylon blades are safe, and won't cause injury
* Quiet motor will not disrupt you when working
* Flexible neck lets you position it any way you like
* Small enough to take anywhere"