Geek Software of the Week: OpenDNS!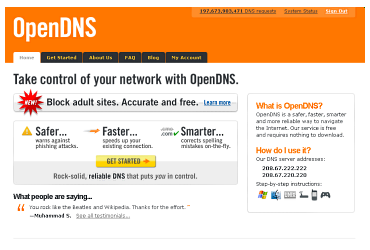 Wow! That is my review. WOW! This is SO cool! OpenDNS is a great FREE service that allows you to set your local PC (or PC network behind a router) to their DNS servers. They then allow you to choose to block all adult sites in your OpenDNS web site account logon. So, if you set your PC to their DNS servers, you are then protected from ALL adult and questionable sites! After following their instructions on their web site, and if you are getting your settings from your local router's DHCP server, you can then type in "ipconfig /release" at the PC command prompt… then do a "hard reboot" of the local PC system. After it comes back up, check again using the command prompt and type: "ipconfig /all" and look for what the DNS is set to. It should be set to:
208.67.222.222
208.67.220.220
If so, you are good to go! If not, follow their instructions for setting up and individual PC. I have tried it, and it rocks! This is a great service to be FREE!!! Here's the link to their web site:
"OpenDNS is a safer, faster, smarter and more reliable way to navigate the Internet. Our service is free and requires nothing to download."
They also have built-in speed enhancements to the DNS lookups, and auto-spell checking of your addresses typed in the URL address box in your browser… how cool is that?! Also, OpenDNS intercepts phishing attempts. OpenDNS customers will be warned if they attempt to visit a phishing site!