Geek Software of the Week: Veeam FastSCP!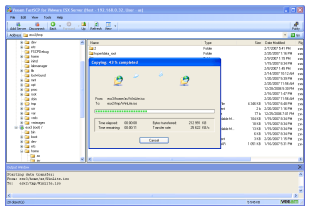 This week's GSotW may have a limited audience… but if you are a VMware System Administrator (like I am) you will find this is a powerful FREE tool in your "tool belt!"
Veeam FastSCP 2.0 for VMware ESX Server
"Veeam FastSCP (Fast & Secure Copy) facilitates the deployment and simplifies backup of virtual machines(VMs) on VMware ESX server. Veeam FastSCP is a fast, secure and easy-to-use tool to perform file management in ESX environment. FastSCP allows a user to copy files from ESX to Windows, Windows to ESX or ESX to ESX. This is the most natural way to deliver an ISO file to ESX Server, make a backup copy of an existing virtual machine (VM) or copy VMs and templates between ESX servers. FastSCP ensures security by using a one-time password feature and works over 6 times faster than SCP.
Features and Benefits:
Multi-ESX management
The user can work with multiple ESX servers at the same time within a single interface. Switching between servers doesn't require re-entering login/password or specifying the server's IP.
ESX to ESX direct copy
FastSCP allows a user to copy files directly between ESX servers and within one ESX Server. Copying is fast and secure and doesn't require any configuration or setup.
Complete file management and Windows integration
FastSCP allows you to work with ESX servers just like you work with files and folders in Windows. Now it doesn't make any difference to a user whether to copy files to ESX or to a desktop. FastSCP supports both Drag n' Drop and Copy & Paste."