Geek Software of the Week: Time Utilities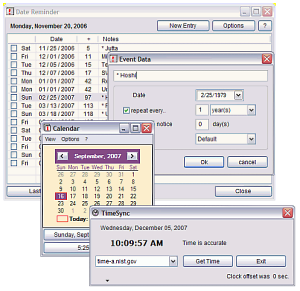 How about three for the price of one? (So to speak!) Three time based utilities for Windows!
Horst Schaeffer's Software Pages
"Date Reminder – This is a Date Reminder for recurring or nonrecurring events, like birthdays, bills to pay, appointments etc… The program can be run from the Startup folder with an option to show only if there is something to remind you of.
Calendar – The Calendar window can be sized to display up to 12 month (any width/height ratio). The month range can be shifted step by step. Click on month or year caption to select any month or year.
TimeSync – TimeSync gets the current time from a NIST server, and adjusts the PC clock if necessary. Accuracy is usually within a second. Time and date are displayed according to the user's regional settings."