I Got My New Laptop!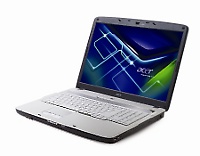 It came in yesterday afternoon from Tigerdirect via UPS! DEWD! My new Acer Aspire 7520 notebook computer! Tigerdirect had it on sale, and I bumped up it's memory to 4 gig! 4 GIG! Dual core… rock on! It does have Vista on it… but, to be fair, I am going to give it a chance… I'll let you know how that goes… but one thing surprised me… the quality of the built-in webcam! It is a 2 megapixel webcam… and it has a GREAT picture! I may even do a DrBill.TV show with it! Cool!
This link may not last long… but here it is:
Acer Aspire 7520-5757 Laptop Computer – AMD Athlon 64 X2 Dual-Core Processor TK-55 1.8GHz, 802.11b/g Wireless, 1GB DDR2, 160GB HDD, DL DVDRW, 17″ WXGA+, Webcam, Windows Vista Home Premium
For you geeks, here's the lowdown from that page:
"Acer Aspire 7520-5757 Laptop Computer
Powered by capable yet affordable AMD Athlon 64 X2 Mobile Technology, the Aspire 7520-5757 laptop computer is ideally suited for any home computing or entertainment environment. Impressive NVIDIA graphics, a 17″ Acer CrystalBrite widescreen, and ultra-realistic Dolby® Digital Live sound provide alluring audio/video playback, gaming and more. Plus, the 7.4-pound Acer Aspire 7520-5757 Laptop Computer presents Acer Video Conference, an exciting communication solution for worldwide, face-to-face video chatting, as well as 802.11b/g wireless technologies. This 7.41-pound laptop computer delivers desktop power and versatility, in a portable chassis with plenty of entertainment and business options. The Acer Aspire 7520-5757 Laptop Computer boasts an AMD Athlon 64 X2 Dual-Core Processor TK-55, 1GB of DDR2 667 memory (which I bumped to 4!,) a 160GB HDD, and an integrated Super-Multi drive with double layer support."
GEEK OUT! GEEK OUT! (Pardon my excitement!)
By the way, I like the modular approach to the system… it made it easy to replace the two 512 meg DIMMs with two 2 gig DIMMs!