Geek Software of the Week: Peppermint Linux!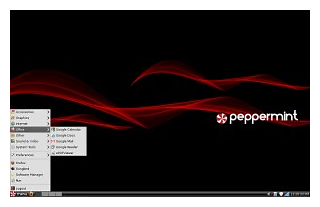 This week's entry to our "Hall of Fame" – Peppermint Linux… a distro billed as the "cloud client"… it looks REALLY promising!
"Peppermint was designed for enhanced mobility, efficiency and ease of use. While other operating systems are taking 10 minutes to load, you are already connected, communicating and getting things done. And, unlike other operating systems, Peppermint is ready to use out of the box. Why spend hours tinkering and tweaking? Install Peppermint and get going!!
Built for Speed
Peppermint OS was designed to be easy on your processor and system resources so you can get going and get things done…
Lightweight
Peppermint OS is under 512MB and easy to run as a Live CD or USB. Loads and Shuts down in Seconds…
User Friendly
Step-by-step installation, Works out of the box, Easy to Navigate with Automatic Updates…."
Peppermint Linux boots in 25 seconds… even on a older system! I like that in a OS! So, try it… it is free as in speech!