OpenOffice.org vs. Libreoffice.org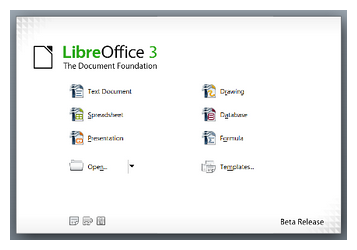 So… it all started when I noticed that OpenOffice.org wasn't getting frequent updates anymore. I figured something was up. I even figured it had to do with Oracle buying Sun Microsystems, who had "owned" and sponsored OpenOffice.org. Now, come to find out, the developers that were constantly developing and updating OpenOffice.org have left OOo to form "The Document Foundation" and start a fork of the project called LibreOffice.
"Libre" is, of course, "free" and the new version, which is in beta, is free as well, in the fine tradition of Open Source! It looks like LibreOffice may eventually even be better than OpenOffice! The Document Foundation is also backed by such Linux veterans as Red Hat, Novell, Google (Android) and Canonical!
Here's what their "Welcome" Page has to say about "The Document Foundation:"
"It is an independent self-governing meritocratic Foundation, created by leading members of the OpenOffice.org Community.
It continues to build on the foundation of ten years' dedicated work by the OpenOffice.org Community.
It was created in the belief that the culture born of an independent Foundation brings out the best in contributors and will deliver the best software for users.
It is open to any individual who agrees with our core values and contributes to our activities.
It welcomes corporate participation, e.g. by sponsoring individuals to work as equals alongside other contributors in the community.
The Document Foundation is proud to be the home of LibreOffice, the next evolution of the world's leading free office suite."
For more info check the link here:
The Document Foundation Mission and Team
In the meantime, I would stick with your OpenOffice installtion until they are out of Beta… but, then, hummmmm… I think I will switch!