Vudu Streaming Service Added to Boxee Box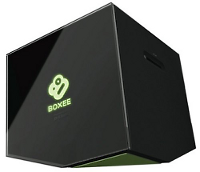 I have Vudu on my Visio Blu-Ray Player at home. It is pretty cool! In fact, my Player came with $15.00 in free rentals, which I have to use before the end of this month! So, I had better get busy this weekend and watch some stuff! Anyway, the Boxee Box looks cool… but, I am leaning toward the Roku box… more on that when I finally get one, or the other! The bottom line is, the future is Streaming Video on the Internet (IPTV!) You have heard it here on the Doctor's Blog for years!
Right Place, Right Time: Vudu streaming movie service hits Boxee
"Streaming video on demand service Vudu will be available on all forms of Boxee in November, the company announced Thursday. This partnership will put a Vudu client on both the D-Link Boxee Box and the Boxee media center software for PC and Mac.
The service offers 480p, 720p, and 1080p HD movie rentals, and gets many movies in conjunction with their DVD launch. Though the service first launched as a standalone set top box back in 2007, it eventually became a video solution embedded in TVs and connected Blu-ray players.
Vudu's shift to being an embedded service looks to have been timed perfectly, and it is now available on products from LG, Mitsubishi, Samsung, Sanyo, Sharp, Toshiba and Vizio. In early 2010, Vudu was acquired by Wal-Mart, cementing its place in the burgeoning for-pay video streaming market alongside Netflix, Apple, Amazon, and Blockbuster.
Now, with a place in the Boxee Box, Vudu finds itself again in the right place at the right time. Set top boxes that stream content 'over the top' (OTT) of an internet connection are hot items right now, and Boxee will be competing with Google TV and the Logitech Revue set top box, Apple's newly redesigned AppleTV, and Roku's streaming media player, now sold in retail through Netgear."