Geek Software of the Week: Unlocker!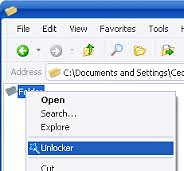 Have you ever tried to delete a file, or directory, only to get a message: "File Locked by System?" Then you have to reboot, and hope that unlocks the file? What!?!? It still didn't unlock! Sigh. Well, now, there's an answer! Unlocker!
Unlocker – File Unlock Utility
Unlocker is a simple, and FREE utility… just be careful during install NOT to install the annoying Bing toolbar! And, you are ready to unlock files!