Today is the 2nd Birthday of the iPad!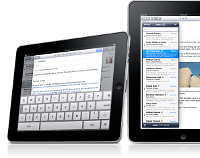 Cross-posted from the "Hand Held Hack" Blog:
So, only two years since the advent of the iPad! Wow! As ubiquitous as tablets are, who would have thought it has only been a relatively short time?!
Apple iPad: Happy 2nd Birthday
"Apple's iPad turns two on Friday, assuming we accept the late Steve Jobs' announcement of the iPad as the device's date of birth rather than its April, 2010 release date.
The iPad's gestation period was a long one. Computer pioneer Alan Kay had conceived of a tablet computer, the Dynabook, back in 1968, around the time that the film 2001: A Space Odyssey, based on Arthur C. Clark's novel of the same name, depicted a tablet news reader.
Over the years, variations on the tablet theme appeared. Microsoft hardware partners shipped tablet PCs in 2002 and Windows-based tablets have lingered on, without much success.
Apple had a tablet of sorts in its Newton handheld device. The Newton had a ten-year run, starting in the late 1980s, but failed to achieve broad enough appeal to survive.
The iPad, however, is different. It's hugely popular, so much so that Apple sold 15.4 million of them during the last quarter of 2011. That's more than the number of PCs sold during that period by HP, the world's leading PC vendor. The desktop computing era is officially over."