After Six Years, a New Version of Apache Web Server!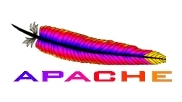 Our old buddy, Steven J. Vaughan-Nichols, at ZDnet has a great article on the announcement about Apache's new version.
Apache releases first major new version of popular Web server in six years
"The Apache Software Foundation has just announced the release version 2.4 of its award-winning Apache HTTP Server. This is the first major release of the Apache Web server in more than six years. Long before the release of Apache 2.2 in December 1st, 2005 though, Apache was already the most popular Web server in the world. Today Apache powers almost 400 million Web sites.
'It is with great pleasure that we announce the availability of Apache HTTP Server 2.4′, said Eric Covener, Vice President of the Apache HTTP Server Project in a statement. "This release delivers a host of evolutionary enhancements throughout the server that our users, administrators, and developers will welcome. We've added many new modules in this release, as well as broadened the capability and flexibility of existing features.'
The Foundation claims that numerous enhancements make Apache HTTP Server v2.4 ideally suited for Cloud environments. These include:
• Improved performance (lower resource utilization and better concurrency)
• Reduced memory usage
• Asyncronous I/O support
• Dynamic reverse proxy configuration
• Performance on par, or better, than pure event-driven Web servers
• More granular timeout and rate/resource limiting capability
• More finely-tuned caching support, tailored for high traffic servers and proxies.
Additional Apache 2.4 features include easier problem analysis, improved configuration flexibility, more powerful authentication and authorization, and documentation overhaul.
It's that first point, improved performance, that most users have been waiting for. While Apache has remained very popular, many users have wanted a faster Web server.
This update has been long expected, but it couldn't come at a better time for Apache. In recent months NGINX, a low-latency, high-performance Web server, has flown by Microsoft's Internet Information Server (IIS) to become the world's number two Web server. While it seems unlikely that NGINX could overcome Apache's commanding lead, NGINX has recently started to offer commercial support and is growing in popularity compared to both Apache and IIS in recent months."