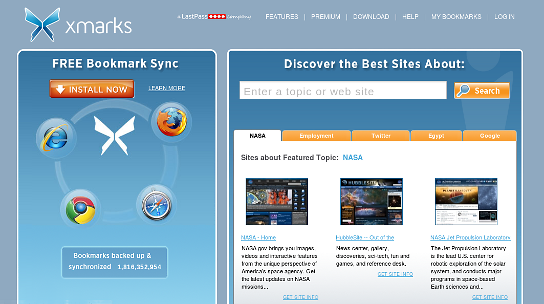 Xmarks is software by a favorite software company of mine… Lastpass! I love Lastpass for managing all my passwords across the entire Interweb! Now, Lastpass has a product that manages all your web bookmarks across all major browsers! Very cool!
Sync and Backup
Install Xmarks on each computer you use, and it seamlessly integrates with your web browser and keeps your bookmarks safely backed up and in sync.
Xmarks will sync across browsers too. Today we support Firefox, Chrome, Internet Explorer, and Safari (Mac OS).
Smarter Search
Xmarks will highlight the top sites in your search results based on how other users have bookmarked and rated them. Simply click to learn more. (Available in Firefox only)
Site Info built into your browser
Click on the Xmarks info icon in your location bar to see detailed information about the site you are on, and discover other great sites just like it. (Available in Firefox only)"