Geek Software of the Week: Ghostery!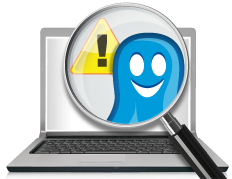 This Geek Software of the Week is SUPER IMPORTANT! This is one you absolutely need! Here are my recommendations, use Google Chrome at all times, and use this GSotW! And it is: Ghostery! Strange name, but awesome software! Protect yourself from the evil malware on the World Wide Web! And, yes, it works on both Windows and Linux (under Chrome.) I have it on my systems! Use this! Also, share this article link with your friends that have malware issues (you know who they are!)
"Detect
Ghostery™ sees the invisible web – tags, web bugs, pixels and beacons. Ghostery tracks the trackers and gives you a roll-call of the ad networks, behavioral data providers, web publishers, and other companies interested in your activity.
Learn
After showing you who's tracking you, Ghostery™ also gives you a chance to learn more about each company it identifies. How they describe themselves, a link to their privacy policies, and a sampling of pages where we've found them are just a click away.
Control
Ghostery™ allows you to block scripts from companies that you don't trust, delete local shared objects, and even block images and iframes. Ghostery puts your web privacy back in your hands.
Build an information foundation!
Each of the over 1,000 companies has a profile that will help you learn more about their technology, their business, and their privacy policies.
At Ghostery, we believe in enabling informed decisions about your control over your online privacy. The more you learn about the companies trading your online behavioral data, the better you can make decisions about how to control your exposure to those companies.
Ghostery allows zero-tolerance blocking of anything ad related, complete (visible) open communication with ad companies, or countless measures in between – determined by you, the informed web user.
Our Promise
Ghostery is free to download and use – plus you have our promise that Ghostery will never be used for advertising. In fact, Ghostery is now part of Evidon, whose mission is to enable a more transparent, trusted environment for consumers and advertisers online."