Geek Software of the Week: Uniform Server!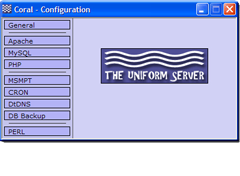 This is a truly different, and useful GSotW! It allows you to easily run a WAMP environment which you can use to run, test, and build a web server that will allow you to build and test web applications, which can then be moved to production servers. Pretty cool stuff!
Uniform Server – A lightweight mobile WAMP Server Solution
"The Uniform Server is a lightweight server solution for running a web server under the WindowsOS. Less than 10MiB, it includes the latest versions of Apache2, Perl5, PHP5, MySQL5, phpMyAdmin and more. No installation required! No registry dust! Just unpack and fire up! The Uniform Server is a WAMP solution that allows you to run a web server on any Microsoft Windows OS based computer. It is small and mobile to download or move around and can also be used or setup as a production/live server.
The miniServers are separate servers in their own right however they are based on the Uniform Server control architecture. The Uniform Server PHP MiniServer provides a graphical user interface to the PHP 5.4.* built-in web server.
Comprehensive Security
All applications are set to the highest security setting for a production live server.
Mobile
Run it live straight out of your USB stick on any PC. No installation or registry dust involved.
Updates
Updates are rolled out with the latest release of each application & components.
Settings
Easily change and manage your server settings.
Logs
Preset for logs and error logs.
Help & Support
A Support Community to help when you need it.