Geek Software of the Week: Synergy!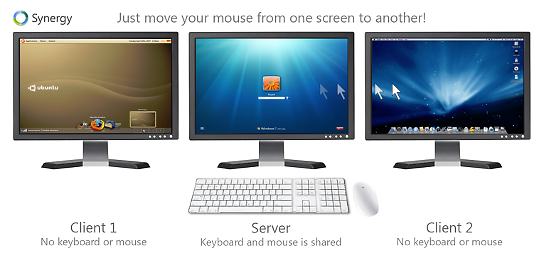 Awesome, awesome, awesome! Yep, that's what I think of this GSotW! It is the perfect fit for my situation at work! I plan to show you via video just what I mean on this Saturday's Dr. Bill.TV show! This is just "TOO COOL FOR SCHOOL!" A friend of mine at work showed me this, and it totally rocks! IP-based, yet fully encrypted, so no one can snoop on your keystrokes… nice!
Synergy – Free and Open Source IP-based KVM!
"As a platform for software based input sharing, Synergy currently requires the use of locally connected displays. This means that each physical (not locally virtualized) member of the Synergy network requires the desk space of at least one monitor. This limitation can be overcome by some method of switching the input being given to a display. In general, this would be done manually, with either a physical input switcher or the monitor's built in controls. However, hardware switches can be clunky and expensive, and reaching out to navigate your monitor's menus every minute can be frustrating.
Supported on Windows, Mac OS X, and Linux.
Simply move your mouse to any computer and start typing.
Copy and paste between all of your computers.
Encryption keeps sensitive data safe on public networks.
Save space on your desktop by using one keyboard and mouse.
All you need is a network connection (no extra cables).
Synergy is free and open source, and always will be!"
(Guess what? I found out that this has already been a GSotW long (09/18/2008) ago, but it has improved so much, it is almost a new app anyway… so there you go!)