Geek Software of the Week: FeedReader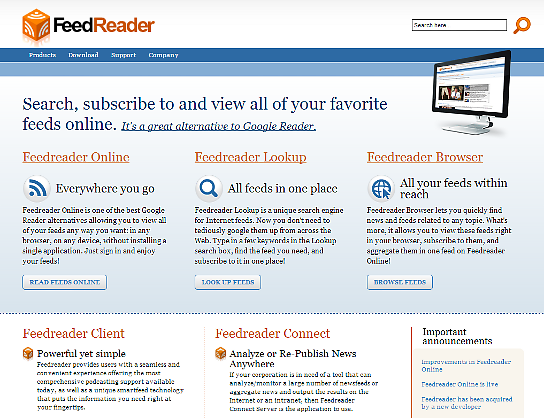 Google Reader is dying. So, alternatives are being explored. And, this is a GREAT option! FeedReader!
Geek Software of the Week: FeedReader
Feedreader Online – Everywhere you go
Feedreader Online is one of the best Google Reader alternatives allowing you to view all of your feeds any way you want: in any browser, on any device, without installing a single application. Just sign in and enjoy your feeds!
Feedreader Lookup – All feeds in one place
Feedreader Lookup is a unique search engine for Internet feeds. Now you don't need to tediously google them up from across the Web. Type in a few keywords in the Lookup search box, find the feed you need, and subscribe to it in one place!
Feedreader Browser – All your feeds within reach
Feedreader Browser lets you quickly find news and feeds related to any topic. What's more, it allows you to view these feeds right in your browser, subscribe to them, and aggregate them in one feed on Feedreader Online!