Google Chromecast – Is it a Revolution in IPTV?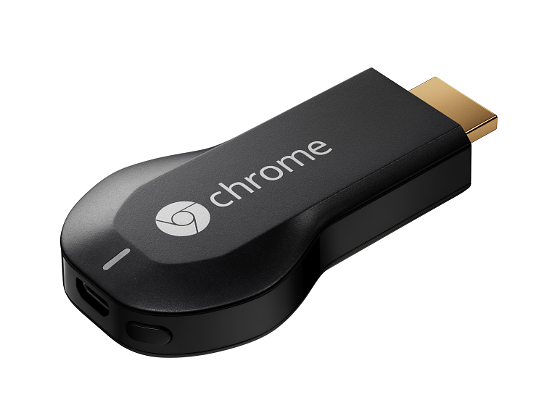 I say, yes! Google's Chromecast debuted last week to much hoopla, and excitement from geeks everywhere! (Followed shortly by gripping and groaning from nay-sayers, which I will cover in a moment.) As you can see from the photo above, the Chromecast is a simple looking device, but what is does is awesome!
The naysayers have been saying things like:
1) It doesn't have enough "native" apps yet!
(So what!? It displays whatever you see and "cast" from your browser, so that could be ANY service!)
2) It isn't that small device that is the size of a thumbdrive after all… it has a long dongle for power and plugs into the wall!
(Again… so what!? If you have a modern HD TV that has a powered version of HDMI jacks on your TV, it will NOT have to use the external power… and even if you do, it is all behind your TV anyway, and once you plug it in, you are done!)
3) My Roku already let's me see Netflix.
(OK, but your Roku doesn't let you display your PC's web browser, and anything running in it, on your HD TV via the Roku. I don't see abandoning my Roku either, but at $35.00 why not get the capability to see my PC's web browser on my HD 55″ TV in all it's glory!?)
Chromecast Specs:
Output: HDMI, CEC (Consumer Electronics Control) compatible
Max. Output Video Resolution: 1080p
Dimensions: 72(L) x 35(W) x 12(H) mm
Weight: 34g
Wireless Standards: 802.11b/g/n Wi-Fi (802.11n 2.4GHz only)
Wireless Security: WEP, WPA/WPA2
Power: USB (Power adapter included)
Includes USB cable and power adapter
Plugs into TV directly and powered from TV's HDCP compatible HDMI port or wall outlet
DEWD! This is a no-brainer!