Geek Culture: You Know That You Want One! The 'Bacon Car!'
Yes, geeks LOVE bacon! I know I do! I totally need one of these!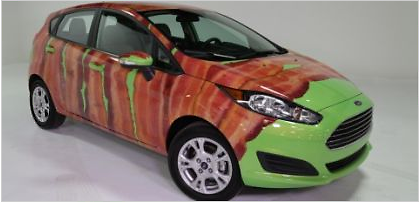 Bacon-wrapped Ford Fiesta pays homage to America's favorite snack
Newsday – "No, the bacon craze didn't reach the apex of its absurdity with the establishment of Aug. 31 as International Bacon Day, or even with the inclusion of the salty swine snack in an ice cream sundae at Burger King. Rather, the obsession may have climaxed earlier this week when Ford announced its newest automobile design option: bacon-wrapped 2014 Fiestas.
The automaker said it would offer the custom stylings to buyers of new Fiestas. There are three ways for Fiesta owners to express their fondness for the fatty treat:
1. The full Bacon Wrap calls for 10 giant strips of bacon rolled around the entire car.
2. The Bacon Racing Strips includes two pieces of bacon on the car's hood resembling classic dual racing stripes.
3. The Side of Bacon option wraps two individual strips of bacon over the rear wheel.
'It's no secret that bacon inspires a lot of passion, and that's what the Fiesta celebrates,' Liz Elser, Ford Fiesta marketing manager, said in a statement. 'Our customers have a hunger for self-expression. Plus, it's just awesome to drive down the road in a piece of bacon.'
The stylings can be a nice gimmick for your favorite bacon buff as they start at less than $100 through FordCustomGraphics.com. But anyone who is passionate enough about the pork product to shell out the $3,347 plus installation fees for the full bacon wrap had better hope the option becomes available on Explorers or F-150s. Because it's unlikely they'll fit in the cramped interior of the pictured compact hatchback."