Facebook Buys Oculus!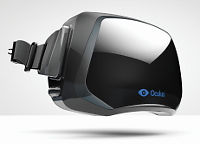 There's big news this week concerning Facebook! How's this for a strange purchase on their part? Facebook paid a reported $2 billion this week to purchase Oculus! Oculus is the developer of the Oculus Rift, the alternate reality headset that has been under development for several years, and is still a long way from practicality. Also, this is right after Facebook decided to purchase WhatsApp for $19 billion dollars!
So, this leaves us with the question" "Is Mark Zuckerberg crazy?" Or, is he "crazy like a fox?" He was quoted as saying, "Mobile is the platform of today and now we're starting to also get ready for the platforms of tomorrow. To me, by far the most exciting feature platform is around vision or modifying what you see to create augmented or immersive experiences."
One thing is for sure, Zuckerberg must be doing very well at Facebook! Which, of course, goes without saying!