The Banana Pi – Want a Bite?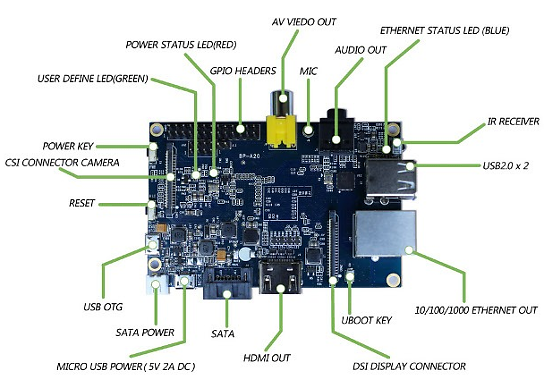 I do! Faster, higher memory, and a neat little toy! I NEED one!
Banana Pi: The next generation of single-board computers?
ZDNet – By Steven J. Vaughan-Nichols – "The maker community loves the Raspberry Pi Single Board Computer (SBC). But, the $35 Raspberry Pi, which was introduced in 2012, with its 700MHz ARM11 processor and 512MBs of RAM, is looking a little dowdy these days. So, Lemaker.org has introduced the faster Banana Pi.
Before launching into the technical details, you should know that the Banana Pi is not, in way, shape, or form, an official successor to the Raspberry Pi. It's a Raspberry Pi clone from a Chinese educational group. That said, with its 24-pin header layout, the Banana Pi is designed to be mechanically and electrically compatible with Raspberry Pi add-on modules.
This new credit-card sized SBC costs just over $74 after shipping. That's a good deal more than the $35 Raspberry Pi Model B it takes after. On the other hand, Banana Pi comes with a dual-core, Cortex-A7-based Allwinner A20 system-on-chip running at 1GHz,. That's much faster than the Raspberry Pi's 700MHz, ARM11-based Broadcom BCM2835 processor. It also includes a more powerful Mali-400 GPU.
The Banana Pi also comes with 1GB of RAM and built-in Ethernet that can handle up to 1Gbps (Gigabit per second). That's ten-times as fast as the Raspberry Pi. This brand-new SBC also includes a SATA port and a micro-USB port. It's also, at 92 x 60mm, a trifle larger than the 85 x 56mm Raspberry Pi.
In theory, the Banana Pi should run all of the software that Raspberry Pi can run In practice, Lemaker only states that their SBC can run Android 4.4, Ubuntu, Debian, Raspberry Pi Image, and the Cubieboard Image. On top of the operating system, the only application the group claims that it will run is Scratch, an educational program from MIT.
This is a very new product from a little-known group, so it's hard to say if will prove just a flash in the pan or a long-term project. The group does have what appears to be a useful quick start guide and active online forums. So, if you want to try your hand at mini-computing with a more powerful system than the Raspberry Pi, I think it's both supported and cheap enough to give it a try. Enjoy!"