Chromecast update lets you mirror your Android screen on a TV!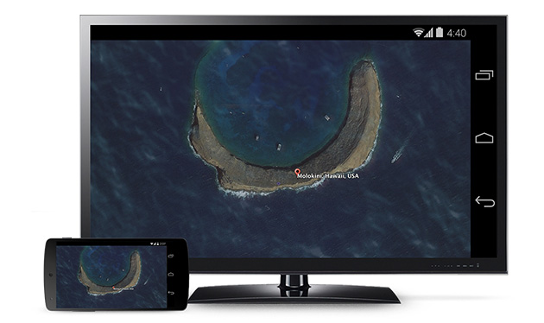 By: Jon Fingas @jonfingas "Google vowed that Android users would finally get official screen mirroring on Chromecast through an update, and it's making good on that promise by rolling out the Chromecast 1.7 app today. Grab the new release and supporting devices (primarily from HTC, LG and Samsung) can send just about anything to a TV just by hitting a 'cast screen' button. If you're using a Nexus device, you don't even have to launch any software — the feature will pop up in Android's quick settings. You're high and dry if your devices aren't on Google's compatibility list, but don't worry too much. We hear there are third-party mirroring apps that can pick up the slack.
An update to Google's Chromecast has been announced at Google I/O, bringing screen mirroring to Android devices as well as a Backdrop mode.
Android mobile and tablet owners will now be able to mirror live to their TV with a connected Chromecast. This will be so fast that it's even possible to open the camera and shoot live, while the camera's view is shown on the big screen.
This live stream option also means that users can cast whatever they are doing right there to the TV. So drawing in an app, writing, scrolling through photos, or sharing videos can be done live on the phone as others in the room watch it happen on the big screen.
The intelligent Backdrop function is also really useful. This allows users to feed photos to the TV turning it into a huge picture frame of sorts. But it isn't just about watching the screen. If the user spots something they like it'll be possible to pick up the connected mobile and ask "What's on Chromecast?" to immediately get more information on that. A painting, for example, will be detailed on the phone while the image can be appreciated, unchanging, on the TV.
The Chromecast homepage won't just be random images anymore as it will now pull in photos from a user's Google+ page.
The Chromecast dongle is also more friendly than before as it now allows anyone nearby to connect and control it. Previously that person would need to be connected to the local Wi-Fi network. Of course who is allowed access can still be limited.
Expect the Google Chromecast update to arrive over the air in the coming weeks."