Microsoft Adds Malicious Ad Blocker to Internet Explorer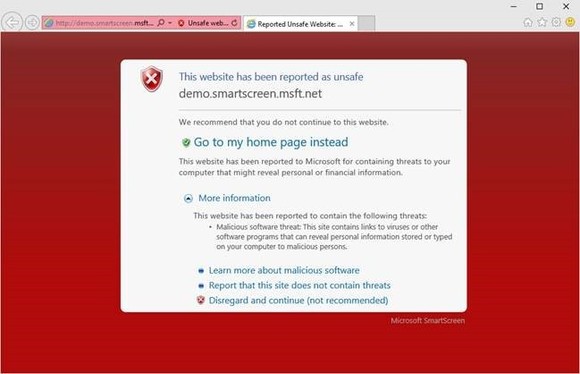 It's about time!
Microsoft cracks down on misleading (and frequently malicious) advertisements
PC World – By: Lucian Constantin – "Microsoft is taking a hard stance against advertisements that trick users into visiting malicious websites or downloading potentially harmful applications.
The effects will be seen in Internet Explorer, whose SmartScreen Filter feature will enforce new rules against misleading ads beginning June 1. The filter will display warnings to users when they encounter such ads (pictured at top).
'There has been a recent increase in the number of online advertisements that are intentionally misleading in nature,' Microsoft said in a blog post Tuesday. 'We've found that these types of advertisements often try to convince a user to do something, the consequences of which they may not fully understand, such as visiting an infected website or downloading a program that can negatively impact their browsing experience.'
The company updated its evaluation criteria for malware and unwanted software to include ads that mislead, deceive or confuse users; ads that are indistinguishable from the content of websites they're displayed on; ads that contain malicious code; and ads that directly invoke file downloads.
If you've ever visited a site and received a warning that your computer is running slow and needs some kind of update or a notification that you need to update Java or some other browser plug-in despite already running the latest version, then you're already familiar with the type of deceptive ads that Microsoft wants gone.
Google has also made changes to its products and services this year to crack down on deceptive ads and websites that lead to potentially unwanted software. The new policy is enforced in Chrome through warnings, in Google Search and Google's advertising network."