17 Million Chromecasts Sold!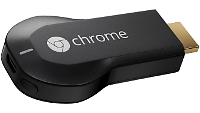 It seems the Chromecast is REALLY catching on!
Google Has Now Sold 17 Million Chromecast Units
Tech Times – By: Sumit Passary – "Google sold more than 10 million Chromecast units worldwide in 2014 and the company has confirmed that it has now sold 17 million units of the device across the globe.
Chromecast was launched in July 2013 and is a thumb-sized media streaming device, which can be plugged to the HDMI port of a TV. A user can stream media to the TV via an Android smartphone or a tablet. The device can also cast media to a TV from iPhones, iPads, Mac computers, Windows laptops or Chromebook.
On Thursday, May 28, Google revealed that the sales of Chromecast shows that the device has changed the way people watch TV. Google revealed that in the U.S. Chromecast users are now consuming 66 percent more media content each day in comparison to mid-2013, when the device was launched. Google also pointed out that YouTube watching time has also increased by 45 percent upon activation of Chromecast.
With 17 million units sold and more than 1.5 billion clicks on the Cast button, Google acknowledges that Chromecast is a big success for the company.
Streaming content is growing rapidly and 2015 will be even bigger. Market analysts estimate that in 2015 about 25 percent of all U.S. broadband homes will be streaming their TV content. Content networks likes HBO may put content online and unbundled from cable packages. Such services from content networks may boost Chromecast sales even more in the coming years.
Experts suggest that easy installation and usage of Chromecast coupled with its cheap $35 price tag are the key reasons behind its success.
Google also revealed that the company is making it easy for developers to bring graphically intensive games or applications to Google Cast receivers with Google Cast Remote Display APIs for Android as well as iOS.
'While Casting your Android screen is an existing option for users, the new Remote Display API allows mobile developers to build a tailored, integrated second screen experience, without requiring an identical mirroring of content between mobile devices and the Google Cast device," per Google.
More and more apps are now supporting Chromecast. Currently, Chromecast supports about 350 streaming services. However, Google suggests that more than 6,000 developers are already working about 10,000 Google Cast-ready applications, which means that customers will be attracted to the device."