M2 Slingbox Changes Things Up!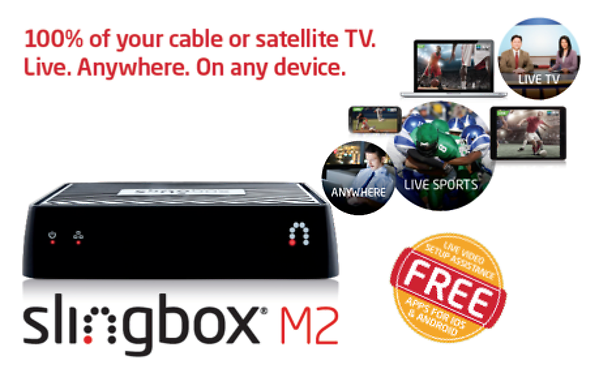 I had one of the old original Slingbox units. It was pretty cool, I would LOVE to test one of these someday!
New 'M2' Slingbox Drops Mobile App Fees
MultiChannel – By: Jeff Baumgartner – "Taking another stab at the consumer mainstream, Sling Media has launched the Slingbox M2, a video place-shifter that won't require users to buy the requisite mobile apps, but will expand its use of advertising.
The M2 (ZatzNotFunny caught wind of the product a few days ago) runs on the same hardware as the Slingbox M1, $149 product launched a year ago, but M2 buyers will no longer be on the hook to pay extra for the SlingPlayer app for iOS and Android tablets and smartphones, which typically runs $15 per app per device. There's no recurring monthly fees, and M2 users also have the ability to stream content from their mobile device to Apple TV, Roku and Amazon Fire TV devices as well as to Chromecast adapters.
With the M2, a product outfitted with WiFi and 1080p capabilities that carries an MSRP of $199.99, Sling Media will instead try to make up for that by selling ads that run on standalone apps for mobile device and PCs, as well as Sling's browser-based clients.
Those users will see a pre-roll ad when they fire up those apps, and ads will also appear in the app viewing window (no ads will be placed on top of the video itself, however). Display ads will disappear completely when M2 customers use the apps in full-screen mode, Mark Vena, Sling Media's worldwide vice president of marketing, said. 'We think that's a great tradeoff,' Vena said, noting that M2 Slingbox users will have the option to avoid ads on the mobile apps by purchasing the apps separately.
The ad model isn't a new one for Sling Media. Last fall, the company started to stitch ads into its free Web browser client and a new standalone PC app for the M1 model. The decision was controversial in that it didn't go over well with some Slingbox customers, but Sling Media defended the decision because it helps the company offset the costs of ongoing engineering and technology testing requirements. Sling Media hasn't revealed how many retail Slingboxes have been shipped (on the leased end of the spectrum, Dish Network embeds the technology in its new Hopper HD-DVRs, and Arris is Sling's exclusive distributor of a place-shifting device optimized for cable operators and telcos). Vena estimates that the M1 currently makes up about 60% to 65% of the recent sales mix. Its high-end Slingbox 500 model runs $299.99. From this point on, the M2 is the company's flagship Slingbox model.
Sling Media will look for the M2 to help it gain more ground in the consumer arena, even as the place-shifting platform faces off with multiscreen TV Everywhere offerings. Sling is trying to distance itself by promoting the fact that its products provide users with remote access to their full pay TV subscriptions, including DVR recordings, rather than to a subset of channels and features typically found in most TVE offerings. Last year, Sling Media introduced a consumer campaign that mocked the limitations of TVE.
Looking ahead, Sling Media plans to introduce a free app upgrade in October that will bring its Gallery view to smartphones that shares similarities with the company's iPad app. The new app will also feature 20% quicker loading and connection times. Sling Media also provided some revised usage data. -Of its U.S. user base, 34% of Slingbox place-shifting is to Europe, followed by Asia (32.6%), and Mexico (9.6%). -The longest Slingbox session recorded so far spanned 12,380 miles (from Asunción, Paraguay, to Taipei, Taiwan). -About 75% of watched hours via the Slingbox occurs out of the home, and 80% of Slingbox viewing is of live TV, versus 20% from a DVR."