The New Roku 4 Leads in 4K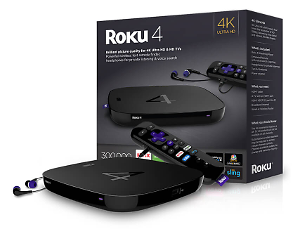 And, now I want one! Wow!
Review: Roku 4 Streams 4K Video With More Powerful Model
Streaming Media.com – By: Troy Dreier – "Roku is taking a lead on 4K, making ultra-high definition support the defining feature of its new Roku 4 set-top box. Someone's got to be first, and while there isn't much 4K content around yet, Roku is helping TV-lovers find and stream it. That gives it a critical differentiator over the new Apple TV, which doesn't support 4K.
Using the Roku 4 doesn't require a UHD TV, and there's a lot to like about it even with an HD set (which is how we tested it). The box has a quad-core processor and triple the RAM of the Roku 3, and performed perfectly in our testing. Combining its hardware with the existing quick-start feature for Netflix and Amazon meant we never had to wait more than a few seconds for content. The Roku 4 includes 802.11ac MIMO Wi-Fi, which is helpful for 4K streaming because it has strong throughput. Viewing 4K video requires an HDCP 2.2 HDMI port. The set-top box also includes optical digital audio for the first time, (something we weren't able to test) and upscales SD video to 720p.
Roku has thrown some variety into the screen savers this time, and automatically shows 4K nature images when the screen is inactive. We loved how rich and detailed they looked, even at 1080p. Those screen savers are customizable, but more on that later.
We didn't have to wait long to test out the remote finder, since remotes naturally get lost in a messy TV room. Press a button on the box and the remote plays a sound of your choosing until you pick it up and press a button. It worked as it should, and is a fun conversation piece.
The improved hardware is only part of the story here. Roku has long been a master of the perfectly intuitive user interface, and the company has released an OS update (to OS 7) that adds useful new features without crowding the controls.
Roku introduced the My Feed feature back in March, letting users identify movies currently in theaters that they want to stream when available. My Feed gains new abilities with OS 7, as users can now follow any movies, TV shows, actors, or directors they want. When something new is available, My Feed lets you know with helpful on-screen indicators. You'll see a number in parentheses in the left-hand navigation that lets you know how many new items you have available, then a purple triangle next to every item in the feed that's been updated. We suspect that many people are spontaneous in their streaming video watching—simply browsing around until they find something good—but the My Feed improvements are a boon for planners who don't want to miss a thing.
OS 7 and the updated iOS and Android Roku app combine to make Roku's new Hotel and Dorm Connect feature possible. We haven't testing this yet, but look forward to doing so later this month during Streaming Media West. This feature gives Roku owners a way around Wi-Fi accounts that require a sign-in. Connect the Roku to a hotel or dorm Wi-Fi network and enter the sign-in information through the app. Once connected, the app passes the credentials over to the Roku. It's a smart idea, and one that makes the Roku an essential travel companion.
The app is worth updating for other reasons. Those high-resolution screen savers in the Roku 4 are customizable: Using the app, owners can substitute their own photos, high-res or not. The controls are easy and its fun having favorite shots show up on the TV, something Apple TV users know well. The app also includes new tools for searching and managing the feed, as well as playing content. These should have been in place when the app was first launched, but better late then never.
The Apple TV will certainly continue to outsell Roku models, but it shouldn't. Roku has known that the future of TV is apps for years now, and it creates dead simple user interfaces that make content discovery a pleasure. The Roku 4 continues that with a forward-looking attitude."