Test to See Which HDTV "Over the Air" Stations You Can Receive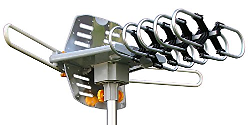 TV without Cable – Over 90% of households can get free over-the-air TV. Can you?
The average US household's cable bill is $123 (a month.) This means you can save over $1,400 a year by simply dropping Cable TV.
Cable companies are allowed to downgrade their service by 30% to save on transmission costs. OTA ("Over the Air") doesn't have this problem.
Test to see what you can receive over the air, using our Geek Web Site of the Week: https://nocable.org/home (Enter your Zip Code on this page.)