YouTubeTV Goes Up by $5.00 per Month… Worth It?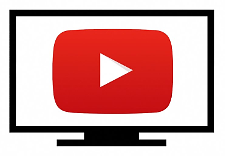 Not to me… not for TNT and Adult Swim!
YouTube TV is adding more channels, but it's also getting more expensive
The Verge – By: Chris Welch – "YouTube TV, the company's internet TV streaming service, is expanding its programming with the addition of several Turner networks including TBS, TNT, CNN, Adult Swim, Cartoon Network, truTV, and Turner Classic Movies. Those channels are all being added to the core monthly package, giving customers access to hits like Rick and Morty, TNT's new drama The Alienist, and a nice selection of live sports. On that note, YouTube TV is also bringing NBA TV and MLB Network to the base lineup. NBA All Access and MLB.TV will be offered as optional paid add-ons 'in the coming months.'
But there's a significant downside coming along with the good news: these changes are leading to a price hike. Starting March 13th, YouTube TV's monthly subscription cost will rise from $35 to $40. All customers who join the service prior to the 13th will be able to keep the lower $35 monthly rate going forward. And if you've been waiting for YouTube to add Viacom channels, that still hasn't happened yet.
$40/month puts YouTube TV on par with Hulu's live television service and Sony's PlayStation Vue. Other competitors continue to offer lower starting subscription prices, however; Sling TV starts at $20, while DirecTV Now's base package is $35. YouTube seems to believe that the unique perks of its service — a cloud DVR with no storage limits and six individual users per account — are enough to compensate for the increased price. And again, the company is giving people time to get in before it takes effect.
Hopefully these jumps in subscription cost won't happen very often. Otherwise these internet TV businesses might suddenly start feeling more like cable (and not in a good way).
YouTube is continuing to improve availability, as well. Today it's adding a bunch of new YouTube TV markets including: Lexington, Dayton, Honolulu, El Paso, Burlington, Plattsburgh, Richmond, Petersburg, Mobile, Syracuse, Champaign, Springfield, Columbia, Charleston, Harlingen, Wichita, Wilkes-Barre, and Scranton. With those added to the total footprint, YouTube claims its TV service is now available in the top 100 US markets and over 85 percent of US households. The product launched last April in just five cities, so that's not bad progress for a year."