A 30TB Solid State Drive!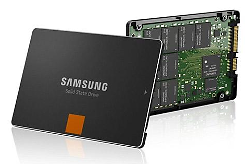 Wow! 30 TB on an SSD in your computer! That is like having a whole datacenter at your fingertips!
Samsung unveils world's largest SSD with whopping 30TB of storage
The Verge – By: James Vincent – "Samsung has unveiled the world's largest solid state drive — an unassuming-looking bit of kit that boasts a whopping 30.72 terabytes of storage. It's the most storage ever crammed into the 2.5-inch form factor, and is designed for enterprise customers looking to move away from the mechanical parts of your standard disk-based hard drive.
The PM1643 is built from 32 sticks of 1TB NAND flash packages, each of which contains 16 layers of 512Gb V-NAND chips. That's enough space to hold 5,700 HD movies or roughly 500 days of non-stop video, and offers twice the capacity of the former largest SSD — a 16 terabyte drive also released by Samsung back in March 2016. (Seagate has made a bigger 60 terabyte SSD, but that was in the more spacious 3.5-inch form factor, and was 'demonstration technology' that doesn't seem to have ever gone on sale.)
The new Serial Attached SCSI (SAS) drive offers impressive sequential read and write speeds of up to 2,100MB/s and 1,700 MB/s. That's about three times as fast as the average SATA SSD you'd find in a consumer desktop or laptop, like Samsung's own SSD 850 EVO. And the drive is robust too, with Samsung offering a five-year warranty that's good for one full drive write per day.
When exactly the PM1643 will go on sale and for how much isn't known, but Samsung says now it's got this form factor settled it'll expand its range of SAS SSDs later this year, with 16.36TB, 7.68TB, 3.84TB, 1.92TB, 960GB, and 800GB versions to come. As Samsung executive VP of memory sales Jaesoo Han said in a press statement, the company will 'continue to move aggressively in meeting the shifting demand toward SSDs over 10TB.'
Don't expect to see 30TB SSDs turning up in laptops or desktop PCs anytime soon of course. But new biggest-ever storage components like this are always trailblazers, and create downward pressure on prices in the consumer market. Now if only we could get a terabyte's worth of storage in our phones."