People Continue to 'Cut the Cord'!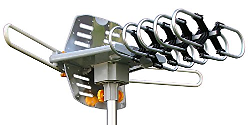 This is a big trend all right!
More and more people cut the cord as cable TV companies struggle
Digital Trends – By: Mark Austin – "Cord-cutting: if you haven't done it yourself (yet), you probably know someone who has. The number of people who've said goodbye to their cable or satellite TV package — and their monthly bill — just hit another new record, and telecom companies are floundering as they try to cope with the new reality.
Fortune's analysis of a recent report from MoffetNathanson Research concluded that more than half a million customers cut the cord in the fourth quarter alone. The 3.4 percent decline in the number of pay TV subscribers is the highest since 2010.
'For all distributors, this is mostly just varying degrees of … bad,' Craig Moffett noted in the report.
2018 will likely be a breakout year for streaming services, as BGR summarized. Sling TV leads the pack, with 2.2 million subscribers. Hulu's live streaming has about 450,000 subscribers, and YouTube TV boasts more than 300,000, according to CNBC.
Customers of the five top internet TV providers has more than doubled, from 2 million in 2016 to nearly 4.6 million at the end of 2017.
The research doesn't include people who never signed up for cable in the first place, younger viewers known as 'cord-nevers' rather than 'cord-cutters.' From a high of 88 percent in 2010, the number of households who pay for cable or satellite TV service has declined to 79 percent in 2017.
The cable TV exodus is being reflected in stock prices as well. Comcast and Verizon are both down 9 percent in 2018, and AT&T shares have lost 6 percent.
Streaming services may not be generating much profit, however. An average streaming bundle is around $30-$40, while a standard cable package is about $100. Because they have a regional monopoly, cable companies can negotiate lower prices with content providers. Streaming services, on the other hand, have transparent pricing models and must compete with each other for a nationwide audience.
Cable companies also have another weapon on their side — their notoriously bad customer service. Because cancelling is so easy, streaming services may face an uphill battle when trying to grow their customer base in the long term, according to industry analyst Rich Greenfield. 'You can cancel these livestreaming services with four clicks of a button,' he said. 'Have you tried canceling your cable?'"