A Smoke Alarm That Doesn't Detect Smoke?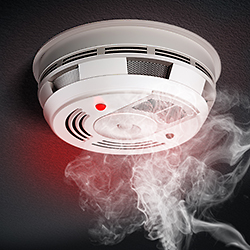 OK, this is embarrassing!
Dumb Smoke Alarm Recalled Because It Can't Even Detect Smoke
Gizmodo – By: Adam Clark Estes – "If you own a Kidde smoke detector, you might want to inspect it. The company just issued a recall on nearly 500,000 smoke detectors that, sadly, did not detect smoke. The Kidde PI2010 and the Kidde PI9010 are the models affected by the recall.
The situation is definitely dangerous for half a million smoke detector owners. It appears that Kidde or one of its partners simply failed to remove a part of the smoke detector that blocks the smoke detector from detecting smoke. Said part is a yellow cap that may or may not be present in the smoke detector you own.
So check out your own situation. If your smoke detector is called Kidde and it also has this yellow part, you might be in trouble. CPSC recommends you contact Kidde, which can provide you with a replacement alarm that isn't worthless."