Geek Software of the Week: JetBoost!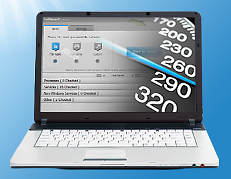 JetBoost will keep your PC free and super fast in gaming or during work.
One Click to Boost
Shuts down all unnecessary processes and services to fit your needs with one single click.
Superb Gaming Experience
Get the maximum capacity out of your PC and focus on gaming only.
Focus on Work
Remove distractions from irrelevant applications when you're working. All unnecessary processes and services had been shut down.
Customize Boost model
Set up your own boost model by choosing which applications you would like to shut down temporarily.
Clean and Safe
Free from any malware, spyware, and virus. Checked against various anti-virus programs and proved to be absolutely safe.
100% Free
Download and use the tool completely free.